Bloom Where You're Planted: The Collection of Deen Day Sanders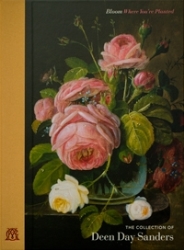 This catalogue accompanies the exhibition of the same name, on view at the Georgia Museum of Art May 19 – July 29, 2018. Drawn from one of the most important Georgia-based collections of American art, the catalogue features furniture and porcelain as well as paintings in a unique opportunity to see the exceptional collection from Bellmere, the home of Jim and Deen Day Sanders. Essays discuss a wide range of topics including the American West, depictions of reading in late 19th and early 20th century portraiture, creating a home out of the best decorative arts, and interpretations of Florida flora and fauna in an Ernest Lawson painting.

The authors of this collection are diverse and include conservation botanist Linda Chafin, State Botanical Garden of Georgia special events coordinator Connie Cottingham, curator of decorative arts Dale L. Couch, director William U. Eiland, curator of American art Sarah Kate Gillespie, associate professor of language and literacy education Jennifer Graff, curator of American paintings Donald D. Keyes, associate professor of history Akela Reason, graduate student Courtney Shimek, and former president of the Friends of the State Botanical Garden Mike Sikes.