2019 Instructional Conversation Institutes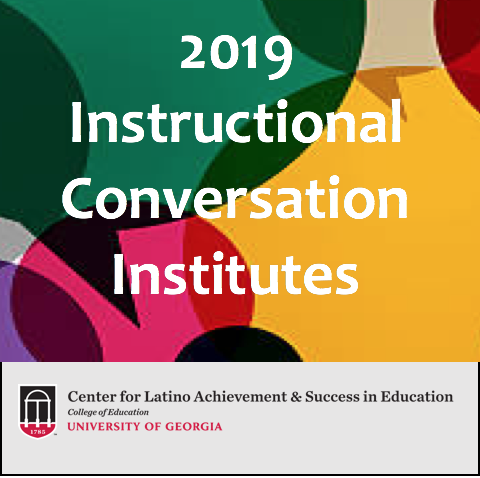 WARNING: Many of the dates and details have recently changed. Please review all information carefully before choosing your session!
Join the Center for Latino Achievement and Success in Education (CLASE) for 30 hours of professional development on the Instructional Conversation Pedagogy and its application. Learn how integrating the listening and speaking standards into facilitated, conversation-based lessons can better prepare all of your students, particularly culturally and linguistically diverse students, for the Georgia Milestones.
The cost for Summer 2019 is $750 per person including all materials, instruction, meals (and lodging for some sessions). Starting in Fall 2019, the cost is $800 per person.
No refunds for cancellation. Substitutions are permitted up to 24 hours in advanced.
Dates for 2019 school year are:
-June 24-27, 2019
at Piedmont College in Demorest, GA (4 days - 8am-5pm). Lodging in an individual dorm room is included June 24-26 (3 nights), but each participant brings their own bedding and towels.
-October 1-4, 2019
at the Walton County Board of Education Annex in Monroe, GA (4 days - 8am-5pm). No lodging included. Commuter friendly.
If your school or district is paying for your registration or you would like to pay via invoice, make sure that you have the code needed to waive the registration fee ready. If your district contact doesn't have this code, you can contact Shannon Rodriguez at
sdpenton@uga.edu
for help.
Once you have your code, watch the following video tutorial for registration help:
Registration Video Tutorial
You can contact
Shannon Rodriguez
at
sdpenton@uga.edu
with any questions about this registration form.