2017 K-12 Summer Teacher Workshop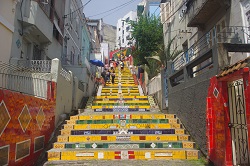 Somos Nós: Brazil on the Move
Infusing Brazil into the K-12 Classroom
June 20-23, 2017
Athens, Georgia
Join us for a four-day summer workshop focused on integrating the language and culture of Brazil into the K-12 classroom! Brazil, Latin America's largest country, has gone through tremendous change in the last decade. From hosting two mega-events, the World Cup (2014) and the Summer Olympics (2016), to recently impeaching their president, Dilma Rousseff, Brazil serves as an interesting case study for developing countries that can add to your students' understanding about the world.
Institute participants will explore the history and culture of Brazil, improve their communication skills through Portuguese language classes, and collaborate to design innovative curriculum and materials to use in the classroom. Faculty and staff from three top-tier universities will give lectures and hands-on workshops
This summer institute is sponsored by the University of Georgia, Tulane University, and Vanderbilt University through a Department of Education Title VI National Resource Center grant. For more information, please visit: www.lacsiuga.org/somosnos or contact Kate Powers, katherine.powers@uga.edu, (706)542-6888.
Each online registration purchase includes a 3% card processing fee.
PLEASE NOTE: Registration includes the cost of breakfast, lunch, internet access, and parking for all four days of the workshop. The deadline for registering for on-campus housing has passed, so you are responsible for arranging your own lodging during the Institute.