Safety for Hispanic Landscape Workers (Seguridad para Trabajadores Hispanos de Jardineria)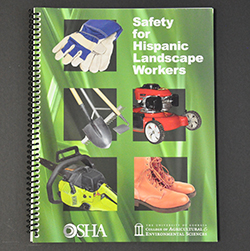 Hispanic workers predominate in Georgia's urban agriculture industry, comprising almost three-fourths of the workforce. Employers must ensure comprehension and safety compliance, address language barriers to create a safe workplace, use physical demonstrations, diagrams, bilingual materials and, if available, an interpreter. This publication covers general precautions, equipment safety, pesticide safety and other information that is necessary for keeping employees safe.

One half of this publication is in English with the Spanish translation in the second half. Spiral bound with laminated pages.