Pierre Daura (1896–1976): Picturing Attachments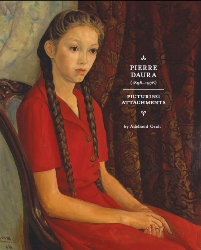 This catalogue accompanies the first exhibition devoted to the many works that the Catalan-American painter Pierre Daura created throughout his career in response to his personal relationships. His courtship of and marriage to an American, the birth of his daughter, Martha, his family's home life in St. Cirq-La-Popie, his service in the Spanish Civil War, his exile to the United States during World War II, and his wife's illness and death represent events to which Daura responded with deeply personal images that can be counted among his most beautiful, original, and moving works, whether on paper, canvas or wood.

The text was written by Dr. Adelheid Gealt, director of the Indiana University Art Museum and professor of fine arts at Indiana University, and the catalogue is published by the Georgia Museum of Art. Research was supported by the Samuel H. Kress Foundation, the Daura Foundation, and IU's New Frontiers grant program. This exhibition and the accompanying catalogue are dedicated to Thomas W. Mapp and Andrew W. Ladis.